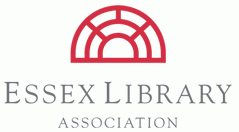 Your Community Center for Lifelong Learning and Cultural Enrichment
Fall 2020
We're here! The Essex Library is in business! We're lending books, movies and other library materials to adults and children. We're conducting programs electronically.
Essex Library curbside service is open and we are lending books and more. Use our online catalog or contact us by telephone or email; we will find your books and put them in a bag with your name on a table inside the entrance.
But still we have challenges, financial challenges. In ordinary times, the Friends of the Library would have conducted several of their popular book sales by now, fun community events that also generate substantial revenue. And, of course, all special events, like the library mini-golf that was such a successful fundraiser, were put on hold.
Now, in this time of financial challenge, we need your support more than ever. We depend on our valuable and loyal patrons to keep the Library an essential part of our lives and our community. Please consider these shortfalls as you decide on the amount you donate to our Annual Appeal.
This year a government act, the Coronavirus Aid, Relief and Economic Security (CARES) act gives a new possibility for taxpayers taking the standard deduction to claim up to $300 in charitable donations made to nonprofits defined as 501(c) (3) organizations.  The Essex Library qualifies as such an organization.
We, as everybody else, look forward to the time when we can open with no restrictions and welcome everybody back to our library. In the meantime, we hope we can count on your continued support to serve our entire community.
Thank you,
Kathy Bonomi
President, Board of Trustees