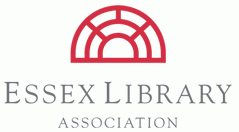 Your Community Center for Lifelong Learning and Cultural Enrichment
October 2, 2019
Take this quiz. It is easy enough because there is only one answer. Where can you:
The one answer: the Essex Library!
All this and more are at your library, but we need your support to keep providing the services residents of our community expect. Every year the Essex Library Association needs to raise at least $70,000 in our annual appeal. The library is a valuable town resource, a center for all ages and a place that every resident can take pride in. What is more important is that the library welcomes every resident to make maximum use of library services. We make only one appeal a year and need your help.  Please be generous in your gift and stop by the library soon.
Yours truly,
Rita Christopher
President, Board of Trustees
Essex Library Association
P.S. Please join us at our Annual Meeting at the library on Wednesday, October 23 at 5:00 p.m. as we officially welcome new Executive Director, Deborah Smith.