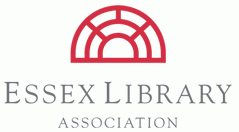 Your Community Center for Lifelong Learning and Cultural Enrichment
October 2022
Dear Friends,
As the weather grows colder and many of us retreat indoors, the Essex Library becomes a
humming place. Patrons take out books and movies, use computers, do research, and attend our
wide variety of programs. And every resource the Library provides, whether inside the building or
from home, can be enjoyed free of charge.
How do we do it? It's you, our donors, and your support that make all of this possible.
Here's just a sampling of the programs your dollars helped fund last year. Writer James Gifford
told us how to "Cut the Cord" and save money on cable service, we collaborated with Sustainable
Essex on author talks, Dorie Greenspan shared tips from her latest cookbook, and, last spring,
the Library hosted a spirited three-part conversation on "Our Constitution" featuring Yale Law
Professor Akhil Reed Amar in a packed town hall.
In the children's corner, our youngest patrons giggled through storytime series, participated in a
"Sensory Walk," and sprawled on the floor for a "Paper Squishy Party." Teens joined the youth
book club and offered their input through our Teen Advisory Board. Kids of all ages took home the
weekly Take and Make craft kits.
Your ongoing commitment to Essex Library ensures our future success in providing the
outstanding programs and services you have come to expect – and enjoy. Every gift, large or
small, keeps our Library vital, responsive, and better able to serve the entire community. Please
give today.
Sincerely,
Kathy Bonomi
President, Board of Trustees
Betsy Sandberg
Vice President, Board of Trustees
P.S. Join the Capt. Joseph Tucker Society! For information on including the Essex Library in your estate plans, see the Support ELA page on our website.