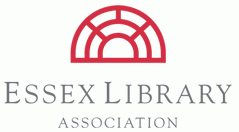 Your Community Center for Lifelong Learning and Cultural Enrichment
October 2021
Dear Friends,
Since reopening our doors, the Essex Library has been a bustling place. Our book clubs are up and running, we're presenting live and online programs, and our young patrons are participating in both virtual and safe outdoor activities such as story times and Halloween fun.
But don't just take it from me. Here's how some of our patrons describe the past year:
"I took my granddaughter to story time, and the children's librarian was amazing in her reading, singing, and dancing!"

"You cannot imagine how important your 'taking care of me' has felt during this Covid horror and for years before that."

"The library has been a wonderful resource for our family! We feel so lucky that every time we need help, the library is there for us."

"The staff locate books and articles for me from throughout the state, including hard-to-find items from great university libraries."
It's taken some creative thinking on the part of our staff to keep library services running smoothly through a year of ups and downs. But one thing's clear: none of this would have been possible without the help of our generous donors. It's your support that keeps the Essex Library going strong, whether your donation goes toward expanding our collections, funding some 250 adult and children's programs per year, improving our technological capacity, or simply keeping the library nimble through difficult times.
Your donation to our 501(c)(3) organization is tax deductible. Please consider making a contribution today.
Sincerely,
Kathy Bonomi
President, Board of Trustees
Betsy Sandberg
Vice President, Board of Trustees