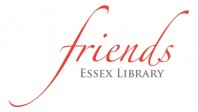 BOOK SALE NEWS
Thank you to everyone who made the Friends Annual Fall Book Sale a smashing success! Be on the lookout for news about our Annual Spring Book Sale returning next year. In the meantime, we have a sale on Travel, Pets, and Nature books ongoing in the Essex Library lobby from October 17th to November 18th. Cash and checks are happily accepted.
And look forward to the Winter Gift Sale, starting on November 18th! Books, puzzles, and more, all like new. Priced as marked.
As always, we greatly appreciate your new or gently used book and puzzle donations. Please make sure none are damaged or dirty. Thank you!!
Donations can be dropped off during regular library hours.
-The Book Sale Committee
Donations
We cannot accept:
Books with mold or water damage
Magazines (including National Geographic)
Text books over 2 years old or marked up items
Technology books/manuals over 1 year old
Encyclopedias
Movies, music, and audiobooks
Books on business or health
FAQs
When and where do I bring my donations to the library?
Please bring items to the circulation desk.
What happens to donations?
Donated items are screened for use by the library. If they do not go on the library shelves, they are sorted, priced, and put into categories for our book sales. We do not have a lot of sorting room so they go into category boxes in the order in which they arrive. Items that don't sell during our sales continue their journey and are saved for subsequent focused sales or put on the Freebie cart near the library entrance.
Can I get a tax deduction?
The library will be happy to give you a form that thanks you for your donations but does not put a monetary value on them. Ask for the form when you bring in your donation items.
More questions about donations?
Other questions about donations – contact Peggy Tuttle at peggytuttle@gmail.com or Lisa Burkarth at lisaburkarth@yahoo.com
What categories do you use for the BOOK SALES?
Book Categories
ACTIVITIES AND GAMES/PUZZLES
ART
BIOGRAPHIES
CHILDREN/ YOUNG ADULT – including Board Books
COFFEE TABLE
COOKBOOKS
DIY – Do It Yourself – Crafts, Woodworking, Etc.
FICTION
FOREIGN LANGUAGE
GARDENING
HISTORY
HUMOR
LITERATURE / DRAMA – Short Stories, Essays, Plays
MARITIME
MISCELLANEOUS – Topics that do not fit elsewhere
MYSTERY
NATURE
PETS
POETRY
POLITICS
RELIGION
SCIENCE
SELF-HELP – Yoga, Philosophy, Psychology, Personal Growth
SMALL PAPERBACKS
SPECIAL
SPORTS
TRAVEL