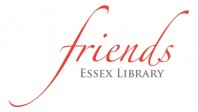 We have held a successful Winter Gift Sale in conjunction with the sale of various artworks of shoreline women. Many beautiful items went out the door as gifts in December.
Also in December, the Friends held a thank you party for our backroom crew and October Sale volunteers. We collected various items to support the women's college-level educational program at York Correctional Facility.
On February 1st, the Friends will participate in our library's version of Take Your Child to the Library Day. Mr. Gym will perform at 11 a.m. From 10-4, we will be offering a wide selection of children's books for free. A donation jar will hopefully garner some funds for the Friends programs.
Current Book Sales

The Friends are holding their Mystery Fiction book sale during the month of January. The proceeds will go to the Friends, which support library programs and activities. Hardcover books are $1 and paperbacks are $.50.
Donations
We welcome donations of all books in good condition for both adults and children. We also welcome unabridged books on CD, music CDs and movie DVDs as long as they are in their original box.
We cannot accept:
Books with mold or water damage
Magazines (including National Geographic)
Text books over 2 years old
Technology books/manuals over 1 year old
Encyclopedias, Reference books
Vinyl records
VHS tapes or cassettes
FAQs
When and where do I bring my donations to the library?
We accept donations all year long, except for the week before our Spring and Fall sales. Please bring them in any time the library is open. If you have a lot to carry, see the person at the circulation desk to have the door near the handicapped parking opened. Please do not leave donations in the lobby or at the door.
What happens to donations?
Donated items are screened for use by the library (and then cleaned if necessary). If they do not go to the library shelves, they are sorted, priced and put into categories for the book sale. We do not have a lot of sorting room so they go into category boxes in the order in which they arrive .Items that don't sell during our sales continue their journey and are distributed to the Newington VA, The Niantic Women's Facility, Read to Grow and Goodwill. Items that are not in sellable condition are placed on the free shelves near the library copier or sent to the recycling room at the dump.
Can I get a tax deduction?
The library will be happy to give you a form that thanks you for your donations but does not put a monetary value on them. Ask for the form when you bring in your donation items.
More questions about donations?
Other questions about donations – contact Peggy Tuttle at peggytuttle@gmail.com or Pam Peters at peterspamelaj@yahoo.com
What categories do you use for the BOOK SALES?
Book Categories
ART
AV ITEMS (audio books, music cds, movie dvds)
BIOGRAPHIES
CHILDREN/ YOUNG ADULT
COOKBOOKS
DIY – Do It Yourself
FICTION
FOREIGN LANGUAGE
GARDENING
HEALTH
HISTORY
HUMOR
LITERATURE / DRAMA
MISCELLANEOUS
MYSTERY
NATURE
PAPERBACKS
PETS
POETRY
RELIGION
SCIENCE
SELF-HELP
SMALL PAPERBACKS
SPORTS & MARITIME
TRAVEL
DIY includes, crafts, technology, and woodworking
Literature/Drama includes short stories, essays, and plays
Miscellaneous topics not fitting the categories above
Self-help contains: philosophy, psychology, yoga, 'how-to' for personal growth
Children's includes; board books, STEAM, as well as Activities and Games
Save
Save
Save