Take a tour of our Children's Department!
Our Children's Room offers many activities, services and materials for children and parents. Library materials include: books, audio books, magazines, music, DVDs, foreign language materials, parent reference books and magazines, preschool toys and more. Family library programming includes: baby, toddler and preschool story hours, elementary age book groups, craft sessions, film showings, teen programs, family nights, parenting programs and many other special events. Ask us about our new programming for homeschooling families and titles that support the Common Core Curriculum.
December News
Hello All,
In December as the winter holidays approach, remember the library for your "one stop shop" for all things needed. Winter break approaches quickly and we'll be here when your children are home on vacation. We'll be running films and impromptu crafting programs, so be sure to give us a call or stop by to see what's happening. The Essex Library wishes you a peaceful winter season filled with good books and warm family memories.
We'd love to see you!
Teen News:
The teen Book Society is back mid-month with conversation about Dystopian and Fantasy favorites. This club sometimes meets in the teen department where we now feature art made by young adults. If you or someone you know has at least 5 pieces of art and would like to display that work for sale, please contact Jessica at jbranciforte@essexlib.org or by calling 860-767-1560.
Thank you, Community Foundation of Middlesex County!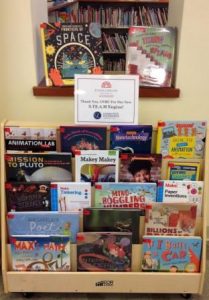 With the generosity of this foundation, we were able to purchase a new rolling book display and 60 new non-fiction titles focused on science, technology, engineering, art and math.
We are so thrilled to add cutting edge information
to our growing non-fiction section. Come on in to learn more about the solar system, modern biologists, animal science, engineering and more.
Request a book – or a book list!
Many parents and teachers in the community need a list of great books from time to time. Readers' advisory is one of our favorite tasks here at the library. We often put out generic lists, but know that there are times when you have something more specific in mind. Right now, for example, we're focusing on booklists regarding hibernation and the Thanksgiving holiday. Perhaps you're in need of a list of great resources about apples or a special holiday. Send us a line! We'd love to cultivate a list tailored to your reading needs, and we can pull the items or place holds on specific titles any time.  As our new website develops, we'll be linking interactive lists online for you as well. Email Jessica at any time at jbranciforte@essexlib.org or call the library at 860-767-1560.
We'd Love to Help You Celebrate
Looking to treat your child or to reward positive behavior? He or she may be celebrating a special milestone like learning to read or may have recently received a compliment from a teacher or coach. Whether your child has had a great sports season or has been an excellent help around the house, we'd like to assist you in rewarding them with a gift. With your help, we would love to put a new picture book or novel into our collection in their honor. What a treat! For more information, contact Jessica at any time at jbranciforte@essexlib.org or call the library at 860-767-1560.