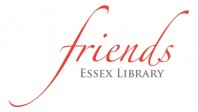 What's happening with the Friends?
We have held a successful Winter Gift Sale in conjunction with the sale of various artworks of shoreline women. Many beautiful items went out the door as gifts in December.
Also in December, the Friends held a thank you party for our backroom crew and October Sale volunteers. We collected various items to support the women's college-level educational program at York Correctional Facility.
We are currently holding a focused sale of a fine selection of fiction and mysteries. Prices are at bargain levels.
On February 1st, the Friends will participate in our library's version of Take Your Child to the Library Day. Mr. Gym will perform at 11 a.m. From 10-4, we will be offering a wide selection of children's books for free. A donation jar will hopefully garner some funds for the Friends programs.
Also, watch this page in the coming months for a new fundraiser the Friends are planning for 2020. It will be "tres magnifique"!  (That's a little hint!)
Current Book Sales
The Friends are holding their Mystery Fiction book sale during the month of January. The proceeds will go to the Friends, which support library programs and activities. Hardcover books are $1 and paperbacks are $.50.