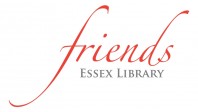 Upcoming Friends Events
(See Below for Details!)
Summer Gift Sale – August 1st – 30th
Swallow Cruise – Sept 13th on Riverquest
Fall Book Sale – Oct 5th from 9-4 (1/2 price 2:30 pm-4 pm) and Oct 7th 10 am-5 pm–Bag of Books for $5
Festival of Dinners–Nov 2nd
Summer Gift Sale
At the Library, during the entire month of August, the Friends will be have a Summer Gift Sale of "new" and "like-new" books, games, movies and music items for all ages. These make wonderful gifts for the upcoming holiday season or for any gift giving needs you may have for the fall and winter. (Very similar to our December sale each year.)
Swallows Cruise
FRIDAY, SEPTEMBER 13th, 5 – 8 PM
Aboard RiverQuest
Depart from and return to Eagle Landing State Park in Haddam
With commentary by Jim Denham, Past President, Essex Land Trust
Cruise to an area on the Connecticut River where 250,000 Tree Swallows converge just before sunset, perform a ballet and then dive into the reeds for the evening.
Tickets are $60 each, including water and sparkling water. Optional Box Dinners are $13 each. Tickets are available at the Essex Library Association.
If the cruise must be cancelled due to VERY bad weather, all tickets will be refunded. Box dinners are NOT refundable and will be held at the Library for pick-up from 4:30 to 5 p.m. on September 13th.
The Essex Library is a 501(c)3 non-profit organization. Tickets are tax deductible to the extent permitted by law.
Fall 2019 Book Sale
The Annual Fall Book Sale (the "best little book sale in town") is a two-day event on Saturday, October 5, 2019 from 9 am – 4 pm. Starting at 2:30 pm to close, books will sell for half price.
The "Fill your Bag for $5" sale will be on Monday, October 7, 2019 from 10 am-5 pm. You are invited to bring your own tote or paper bag. Free paper bags will also be available at the library.
Friends Festival of Dinners
Later in the fall, on November 2, 2019, the Friends Fall Festival of Dinners – with a reception at the library, followed by dinners in private homes throughout Essex.