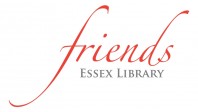 Friends of the Essex Library Garden Tour
Saturday, June 9th
10 a.m. – 3 p.m.
Tickets go on sale Tuesday, May 1st.
$30 in advance
$35 at the door
Please call Essex Library for further information at (860) 767-1560.

Current Book Sale
Our current book sale theme is Maritime. Find these books at the library, on the shelves by the front door! $1.00 for Hardback copies, $.50 for paperbacks.