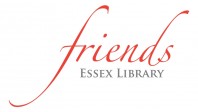 June was a special month for the Friends of the Essex Library and the library itself! On June 5th at the Friends annual meeting the library was presented with a check for $25,000 which reflected a very good year of fundraising by the organization. Suzy Baird and Susan Hosack represented the Friends at the annual meeting of FOCL (Friends of Connecticut Libraries) on June 8th. They were there to accept an award for the Friends' submission – PUTT FORE THE ESSEX LIBRARY – in the Focused Project category of FOCL's annual awards. That fun event back in January not only raised significant funds for the library it also brought the Friends some statewide recognition.
And on the evening of June 8th the Friends and the Board of Trustees hosted an Open House at the library where more than 100 people came to wish Richard Conroy, Executive Director, all the best upon his retirement at the end of June. Richard served as Executive Director for 11 years and brought many changes and improvements to the library and the services it offers. He will be greatly missed, but the Staff, Friends, Board of Trustees and patrons look forward to working with Deb Smith, the incoming Executive Director.
In the fall the Friends will be hosting a Swallows Cruise aboard the RiverQuest on September 13th and the Friends Fall Festival of Dinners – a reception at the library followed by dinners in private homes – will be held on November 2nd. More information about these events can be found here, later this summer.
June 2019 Book Sale
Are you preparing for family fun when summer arrives? In June we are focusing on books for Children and Young Adults.  Stop by at any time.  The shelves are updated daily.
Remember, there are no dues to become a Friend of the Library.  Ask for an application at the circulation desk.