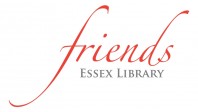 Upcoming Friends Events
Friends Festival of Dinners
On November 2, 2019, the Friends Fall Festival of Dinners – with a reception at the library, followed by dinners in private homes throughout Essex.
Tickets are on sale now at the Essex Library. Tickets are $75 per person.
Chances for Carlson's Landing Gift Card ($450 value) will be sold at the reception. Winner will be announced before you leave for dinner!
Friends Cookbook Sale
October 8th – November 15th
The Friends of the Essex Library are running their annual cookbook sale October 8th through November 15th. Hardcover  books are $1.00 and paperbacks are $.50. Some items are priced as marked.