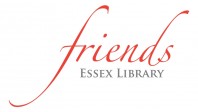 Friends Annual Spring Book Sale
Mark your calendar for the Friends Annual Spring Book Sale on Saturday, May 20th, from 9 a.m. to 5 p.m. Books will be half-price from 3-4 p.m. and "Fill Your Bag for $5" will run from 4-5 p.m. for all books (except those specially priced). You are invited to bring your own tote or paper bag. Free paper bags will also be available at the library.
The "Fill Your Bag for $5" sale will continue on Monday, May 22 from 10 a.m.-6 p.m. Again, free paper bags will be provided, if needed.
Among the nearly 150 signed books for sale is Slipknot by Linda Greenlaw, winner of the U.S. Maritime Literature Award and the New England Book Award for nonfiction as well as John McCain's signed memoir, Worth Fighting For. Among the more interesting subjects are Handloom Weaving Technology, French Food at Home, The World of Beer Memorabilia, The Architecture of Paris, and Adventures in Edible Plant Foraging.
Unique to this sale is a collection of 30 Life magazines from the 1930's and 40's, featuring everyone from Winston Churchill to Roy Rogers and Trigger. Each is in a plastic sheet protector and priced between $3 -$5. Also available for sale will be a jazz aficionado's collection of 150 CDs, from Diana Krall and Hoagy Carmichael to Starbucks and Pottery Barn choices, each for $1.00.
Visit our Book Sale page for a complete listing of all signed books and special items.
Library Night at The Ivoryton Playhouse
Library Night at The Ivoryton Playhouse is drawing nigh. Thursday, June 1st, is the date and MILLION DOLLAR QUARTET is the show. It is time to stop by your local library in Ivoryton or Essex and buy your ticket to the festivities. All proceeds will benefit both libraries.
Where were you in 1956?
What was playing on the jukebox?
Who were you dancing with?
MILLION DOLLAR QUARTET brings you inside the Memphis recording studio where Elvis Presley, Johnny Cash, Jerry Lee Lewis and Carl Perkins gathered for one unforgettable jam session.
The evening begins at 6pm at the Ivoryton Playhouse with a reception sponsored by Copper Beech Inn, followed by a performance of MILLION DOLLAR QUARTET. If you missed the CHICAGO or SOUTH PACIFIC Library Nights, you won't want to miss this one.
Fundraiser Tickets are $70, and will be available at the Essex and the Ivoryton Libraries starting April 20th through May 27th. Reception Only Tickets are $30 and, also, available at the libraries.
BRING YOUR HIGH SPIRITS
ENJOY THE MEMORIES AND MUSIC
DON'T FORGET YOUR DANCING SHOES