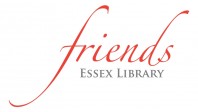 Spring 2019
The Board of the Friends of the Essex Library would like to thank all who contributed to the success of our April Book Sale.  A profitable sale requires significant work by many volunteers, and we appreciate the effort of those who worked during the Saturday and Monday sales, those who sorted, repaired, priced and stored books in preparation for it, those who helped set up, and those who put everything away afterwards.  We are especially grateful to the several students who lifted heavy boxes of books before and after the sale, and, as in the past, we thank the library staff, who is always there to support us.  Lastly, we would be remiss in not thanking all of you who contributed to the sale, and who purchased, books, CDs and DVDs.   Your support of the library is deeply appreciated.
As your thoughts turn to outdoors activities, you'll want to come frequently to our May Focus Sale.  A large collection of Maritime and Sports books will be available.  And, so that you're prepared for family fun when summer arrives, in June we will focus on books for Children and Young Adults.  Stop by at any time.  The shelves are updated daily.
Remember, there are no dues to become a Friend of the Library.  Ask for an application at the circulation desk.