What's On This Page: New Books | Teen Events | Teen Service – Free Permit Practice Test | New Computer! | Teen Recommendations | Research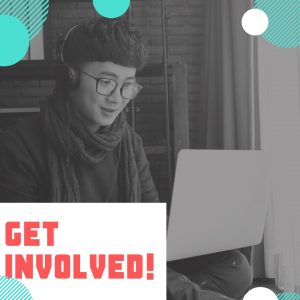 What programs do you want to see at the Essex Library? Let us know!
Volunteer virtually at the library. Apply today.
New Books
The following are books that are soon to be released and are certain to be popular. To place a hold, just click on the title and then on "Request/Hold" and have your Library card handy.
Young Adult
Fear of Missing Out by Kate Mcgovern
Gender Queer by Maia Kobabe
Light it Up by Kekla Magoon
The Past and Other Things That Should Stay Buried by Shaun David Hutchinson
Stage Dreams by Melanie Gillman
They Called Us the Enemy by George Takei
Teen Events
Teen Virtual Game Night
Thursday, October 22nd at 5:00 p.m. on Zoom
Ages 13-18
Join your friends for a virtual Jackbox game night. You'll need two devices to play: A screen connected to Zoom and a separate phone or tablet with internet access. You'll also have the chance to meet the new librarian, Christina, to ask her questions and share your ideas. Registration required.
Registration link: https://us02web.zoom.us/meeting/register/tZEpdOqvrTMtE93hNICkx075UNGgDgcQpdSX
Teen Animal Crossing: New Horizons Costume Party
Thursday, October 29th at 5:00 p.m.
Ages 13-18
Visit the library's island in your scariest or silliest virtual costume. Explore the island, trade DIYs and items, and play games to win in-game prizes. Registration required.
Registration link: https://forms.gle/ZJMraBdV21bFYtGW7
Creative Writing Club
Wednesdays, November 4th, 11th, and 18th at 4:00 p.m.
Zoom | Ages 13-18
Whether you're participating in National Novel Writing Month, or just like to write, join us for weekly writing sessions. Open to all abilities and writing styles. Registration required.
Registration link:
https://us02web.zoom.us/meeting/register/tZMpcOGrrz8tHdTl_uMrUzZSvvkymu7-7FRs
Virtual Book Society
Friday, November 13th at 3:00 p.m.
Ages 13-18
Meet other book-loving teens, talk about what you're reading, and get first dibs on the latest YA arrivals.
Registration link:
https://us02web.zoom.us/meeting/register/tZYudeupqjgjG9ayGP90HhjHkVMiAicNt-K4
Teen Game Night: Trivia Bingo
Thursday, November 19th at 5:00 p.m.
Ages 13-18
The day of the event you'll receive an emailed Bingo card. Each space will be filled with a potential trivia question answer. When the librarian reads a trivia question, search your sheet for the answer. Get BINGO to win!
Registration Link: https://us02web.zoom.us/meeting/register/tZcvdeygpz0jHtY3O3Jke2I3zkmZRduJ_iQh
Super Smash Bros. Tournament
Saturday, November 21st at 1:00 p.m.
Ages 13-18
Grab your Switch and compete in our virtual library Smash Bros. tournament. Just want to watch? Get invited to our Discord and join the livestream. Registration required.
Registration Link: https://forms.gle/Aiu5RZ2ry7iCG259A
Teen Service
Free Permit Practice Tests
In partnership with Driving-Tests.org, the Essex Public Library is offering FREE Connecticut Driver Permit practice tests. This service also provides information on taking the CT Driving Test as well as the Driving Handbook.
Want to share a good book? Feeling especially passionate about something you've just read? Come in and visit. We'd love to add your video or written reviews to our selection. You never know whose life a good book will change for the better.  Visit Riley Sullivan's newest video review.
Teen Recommendations
YALSA's Teen Book Finder is a free app to help teens, parents, librarians, or any lover or YA literature to access the past three years of YALSA's awards and lists on their Smartphone, iPod or iPad.  App features include: a homepage featuring titles from the database, refreshed each day, a book search engine, a Find It button (powered by OCLC WorldCat Search) a favorites button and the ability to share brooks from the Teen Book Finder on Twitter and Facebook. Scan the QR Code in our YA Department to get the app today!
Research

Need reliable (and last minute) research help? The free online resource, researchIT CT is here for you! Don't forget about researchIT CT where you can find articles and information that you can trust. If you're in need of a little project help, please visit the Children's department for a researchIT CT tutorial. We're always happy to help!