Click for more information: New Books | Teen Events | Teen Blog – Teen Space | Teen Service – Free Permit Practice Test | New Computer! | Teen Recommendations | Research
New Books
The following are books that are soon to be released and are certain to be popular. To place a hold, just click on the title and then on "Request/Hold" and have your Library card handy.
Botanical Beauty by Aubre Andrus
Golden Son by Pierce Brown
How Dare the Sun Rise by Sandra Uwiringiyimana
Night Witches by Kathryn Lasky
The Pearl Thief by Elizabeth Wein
Ramona Blue by Julie Murphy
The 15:17 to Paris by Anthony Sadler
Ask the Dark by Henry Turner
Hostage Three by Nick Lake
Teen Events
After Hours @ The Essex Library
Friday, July 14th at 5 p.m.
Teens only; Grades 7+
Join us for a summer night of reading perks, snacks, music and friends. Win copies of advance review books, have your library fines deleted, and watch book-to-film trailers. Be the first to borrow our from new YA book shipment and help us choose our new teen titles. Bring your playlist and plug into our surround sound – after hours, the library is yours. Registration by noon on 7/14 earns you an extra prize ticket! Email Jessica at jbranciforte@essexlib.org to reserve a space at this program.
Valley High School Book Chat
Monday, July 24th from 4 – 5 p.m.
Ages 13 – 18
Mosquitoland by David Arnold
Fulfill a summer reading requirement with a book chat at the Essex Library. Together we'll discuss one our most popular books in the Teen section. "After the sudden collapse of her family, Mim Malone ditches her new life and hops aboard a northbound Greyhound bus to her real home and her real mother, meeting a quirky cast of fellow travelers along the way." Join us as we create character profiles, watch book trailers and discuss related song lyrics written by the author. Pizza and refreshments will be served. Space is limited for this event. Please call the library to register at 860-767-1560.
Play Unplugged at the Essex Library
Friday afternoons from 3 – 4:30 p.m.
Ages 13 and up
Middle and high school students are invited to join teen expert Cooper to learn the basics of a variety of popular card games including Magic the Gathering. This group meets weekly on Fridays from 3-4:30 p.m. Here you will learn game basics and how to build a strategic deck. Unofficial tournaments for both new and experienced players will be held with cards as prizes.  Registration is not required for this event.
Teen Blog – Teen Space
We are excited to announce our new teen blog – Essex Library Teen Space!
Teen Service
Free Permit Practice Tests
In partnership with Driving-Tests.org, the Essex Public Library is offering FREE Connecticut Driver Permit practice tests. This service also provides information on taking the CT Driving Test as well as the Driving Handbook.
Need a good book suggestion? Teen reviews have been posted! Visit our new YA blog or come in to check out the new book review binder labeled "Read This!" Included are the 2014 Teen Choice Book of the Year Nominees, top 25 teen nominations for 2013, the Nutmeg List among many 2014 awards for audio books and DVDs. Don't leave empty handed!
Want to share a good book? Feeling especially passionate about something you've just read? Come in and visit. We'd love to add your video or written reviews to our selection. You never know whose life a good book will change for the better.  Visit Riley Sullivan's newest video review.
New Teen Computer!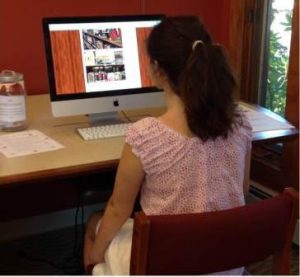 New Teen Computer – The Essex Library is pleased to announce the addition of a new Teen IMac desktop computer and software thanks to the generosity of Community Foundation of Middlesex County.
The computer was purchased through the "Live and Learn" grant recently awarded to the Essex Library.
This grant has also allowed us to present Teen programing and purchase technology for the benefit our young adults. The Essex Library Association extends its thanks to the Community Foundation of Middlesex County!
Teen Recommendations
YALSA's Teen Book Finder is a free app to help teens, parents, librarians, or any lover or YA literature to access the past three years of YALSA's awards and lists on their Smartphone, iPod or iPad.  App features include: a homepage featuring titles from the database, refreshed each day, a book search engine, a Find It button (powered by OCLC WorldCat Search) a favorites button and the ability to share brooks from the Teen Book Finder on Twitter and Facebook. Scan the QR Code in our YA Department to get the app today!
EasyBib is an app which is free in iTunes. It enables you to create accurate MLA, APA, and Chicago style citations in seconds by scanning a book bar code or by typing the name of a book. Use EasyBib to build and manage your works cited. Once done, email and then export your citations to EasyBib.com's popular bibliography management service. It works best with iPhone 4. It also works with iPad and iPod Touch, but camera on these devices requires that barcodes need to be held steady and at a proper distance for the scanner to pick it up.
The Junior Friends of the Essex Library
The Junior Friends of the Essex Library help to plan and promote programs, work on community service projects, fundraise for the Library, and read with younger students. We're working on a new Jr. Friends schedule and are always looking for volunteers to help with children's and teen programs. We're also looking for older readers for our Reading Buddies program on Monday afternoons. Junior Friends Recruitment is ongoing – please let us know if you'd like to get like to get involved! If you would like to become a Junior Friend, please visit the Library for more information or check out the "Want to Join?" page on our blog. You can also email Jessica at jbranciforte@essexlib.org anytime.
Are you in need of community service?
Or just willing to help out? Jessica is looking for a few volunteers to help keep the YA corner in tip-top shape! Over the past few months we've had a rise in teen readers which is wonderful! The books are flying off the displays faster than we can replace them. If you're a lover of YA literature or just want to help out, let her know. If you or anyone you know might be interested in either situation, email Jessica.
Check Out the Essex Library's New Teen Space blog!
Research

Need reliable (and last minute) research help? The free online resource, researchIT CT is here for you! Don't forget about researchIT CT where you can find articles and information that you can trust. If you're in need of a little project help, please visit the Children's department for a researchIT CT tutorial. We're always happy to help!