The Friends of the Essex Library was organized in 1978, almost one hundred years after the establishment of the Library.  Four enterprising women, Joan Duys, Ginnie Freeman, Dodie Harris, and Jeanne Byrne organized a group of volunteers who raised funds for much-needed equipment, mended torn books, shelved returned books, or helped at the circulation desk.  Their annual book sales soon became a much anticipated event and the principal fundraiser for the Friends.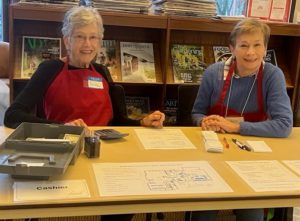 Today, the Friends continue to play these critical roles at the Library. Our volunteers raise money for special equipment and services that supplement the Library's budget and we volunteer our time and talent to help the Library's staff with everyday needs.
We want the Essex Library to offer our community a rich array of resources. We invite you to join the Friends by filling out our Volunteer Form.
Save