New Naturalism with Kelly D. Norris
Saturday, March 6th at 11 a.m. on Zoom. Registration required.
The next generation of home landscapes don't consist of plants in a row, pruned to perfection and reliant on pesticides, fertilizers, and herbicides to survive. Instead, today's stunning landscapes convey nature's inherent beauty. These gardens are imbued with romance and emotion, yet they have so much more to offer than their gorgeous aesthetics. Naturalistic garden designs, such as those featured in Kelly D. Norris' groundbreaking new book, contribute to positive environmental change by increasing biodiversity, providing a refuge for wildlife, and reconnecting humans to nature. Horticulturist and modern plantsman Kelly D. Norris will discuss his inspiring, ecologically sound vision for home gardens created with stylish yet naturalistic plantings that mimic the wild spaces we covet, such as meadows, prairies, woodlands, and streamsides. With a basic introduction to plant biology and ecology, learn how to design and grow a lush, thriving home garden by harnessing the power of plant layers and palettes defined by nature, not humans. Registration is required.
An award-winning author and plantsman, Kelly's work in gardens has been featured in The New York Times, Organic Gardening, Better Homes and Gardens, Martha Stewart Living, Fine Gardening and Garden Design and in numerous local and regional media appearances. His passion for planting at the intersections of horticulture and ecology has culminated in a new book New Naturalism: Designing and Planting a Resilient, Ecologically Vibrant Home Garden which debuts 2021. He is the former director of horticulture and education at the Greater Des Moines Botanical Garden, where for 8 years he directed efforts in design, curation, programming, garden and facility management. His other books include: A Guide to Bearded Irises: Cultivating the Rainbow for Beginners and Enthusiasts (2012; winner of the 2013 American Horticultural Society Book Award), and Plants With Style (2015).
Zoom registration link: https://us02web.zoom.us/meeting/register/tZEpdOyvqTkjE927D0Ok1ObJuwlGPT99qeAn
Managing Your Money in Challenging Times: The Basics, A 5-Part Series
Tuesdays, at 6:30 p.m. on Zoom. Registration required.
UConn Financial Extension educator Faye Griffiths-Smith will offer a free 5-part financial literacy series beginning Tuesday, January 26th at 6:30 pm. It will be held every other Tuesday through March 23 on Zoom. We hope you can attend all the sessions but it isn't a requirement.
Part 4, March 9th: Managing Your Credit
Zoom registration link: https://us02web.zoom.us/meeting/register/tZArf-CoqjguE9z4cYju0u4UPLTFCfXBEobc
Part 5, March 23rd: Dealing with Debt
Zoom registration link: https://us02web.zoom.us/meeting/register/tZEpdeusqTkuG9SyeH1lh_gQyY_Mo6LetNz0
Author Talk With Luanne Rice: The Shadowbox
Sunday, March 14th at 1 p.m. on Zoom Registration is required.
After artist Claire Beaudry Chase is attacked and left for dead in her home on the Connecticut coast, she doesn't know who she can trust. But her well-connected husband, Griffin—who is running for governor—is her prime suspect. Just before the attack, Claire was preparing for an exhibit of her shadow boxes, one of which clearly accuses Griffin of a violent crime committed twenty-five years ago. If the public were to find out who her husband is, his political career would be over. Claire's certain her husband and his powerful supporters would kill her to stop the truth from getting out. When one of Claire's acquaintances is murdered, the authorities suspect the homicide is linked to the attack on Claire. As the dual investigations unfold, Claire must decide how much she's willing to lose to take down her husband and the corrupt group of elites who will do anything to protect Griffin's interests and their own.
Luanne Rice is the New York Times bestselling author of thirty-five novels that have been translated into twenty-four languages. Several of Rice's novels have been adapted for television, including Crazy in Love, for TNT; Blue Moon, for CBS; Follow the Stars Home and Silver Bells, for the Hallmark Hall of Fame; and Beach Girls, for Lifetime. Rice is a creative affiliate of the Safina Center, an organization that brings together scientists, artists, and writers to inspire a deeper connection with nature―especially the sea. Rice is an avid environmentalist and advocate for families affected by domestic violence.
Zoom registration link: https://us02web.zoom.us/meeting/register/tZApfuyhpzkuG9Zpr51CcqJkXUfXOzWIAXpn
Centerbrook Architects Lecture Series Presents George Miller, FAIA with "The Winning Ways of I. M. Pei"
Friday, March 19th at 7 p.m. on Zoom. Registration is required.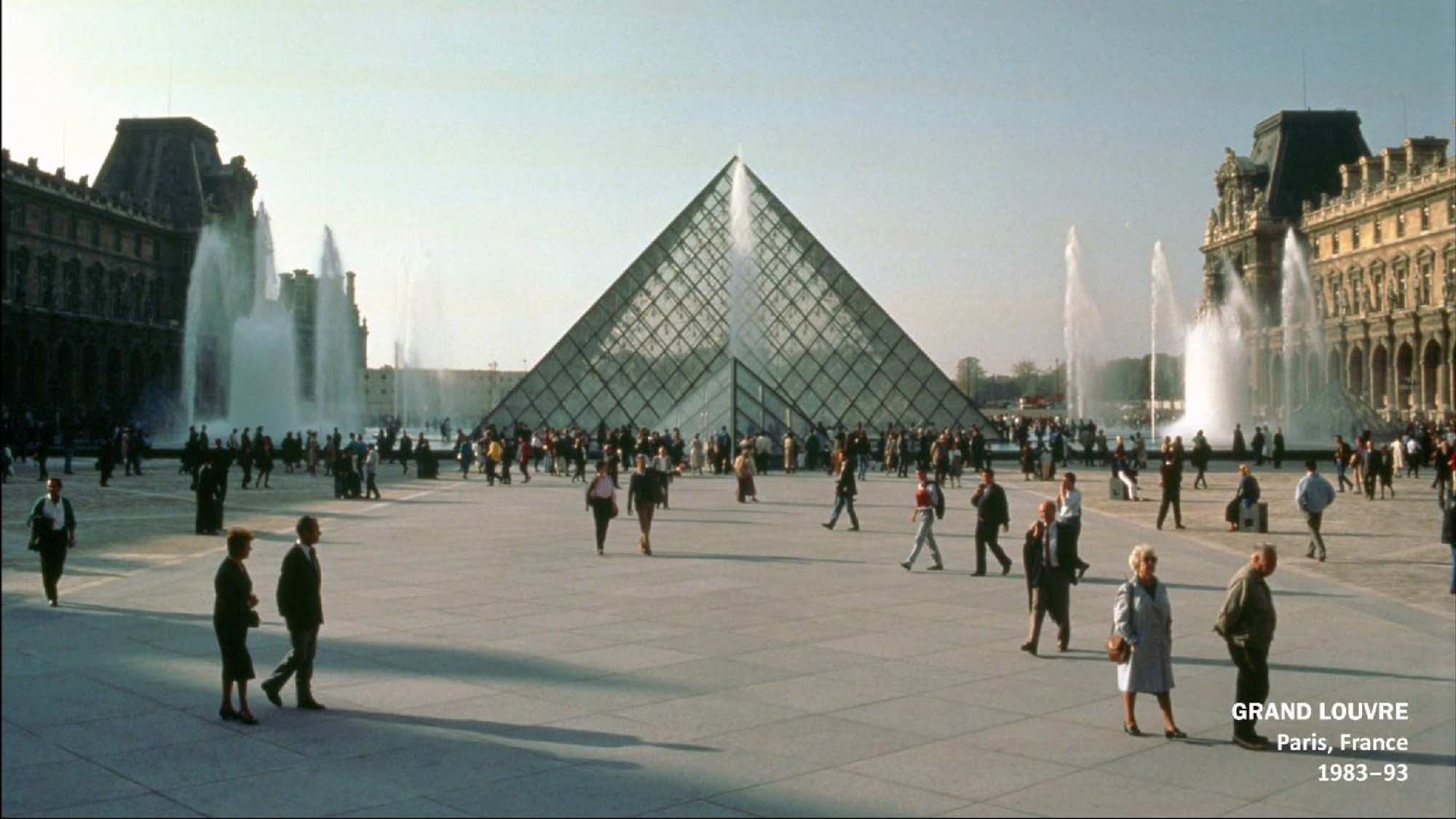 Did you know that the East Building of the National Gallery of Art, the Louvre pyramid, the Rock & Roll Hall of Fame in Cleveland, and the National Center for Atmospheric Research in Boulder, Colo. were all designed by the same architect? I. M. Pei designed those and many more award-winning buildings and in 1983 was awarded the Pritzker Prize, widely regarded as the Nobel Prize of architecture. Former managing partner at Pei, Cobb, Freed & Partners Architects, George H. Miller, FAIA, will present an illustrated review of I.M. Pei's career. Miller will speak about the influence of site on each design of four major projects: the National Gallery East Building, the Bank of China in Hong Kong, the Meyerson Symphony Center in Dallas, and the Grand Louvre in Paris, which began without public support but became one of the most loved and most visited museums in the world.
George H. Miller, FAIA is the Chief Operating Officer of Richard Meier & Partners LLP. Previously he served as the managing partner of Pei Cobb Freed & Partners Architects LLP and worked in the firm for 43 years. Among his many leadership positions within the profession, Mr. Miller has served as president of the New York Chapter of the American Institute of Architects (2003) and as AIA national president (2010). Additionally, he has served as the chair of the NY State Licensing Board and he continues to serve the Board as a member. Currently he is the chair of the NCARB Region 2 Board.
Miller has received the New York State James William Kideney Gold Medal, the NCARB President's Medal for Distinguished Service, the President's Medal from the AIA New York Chapter and the Alumni Achievement Award from the Pennsylvania State University. He is an internationally recognized leader and advocate on behalf of the profession, playing a central role in the development of an effective framework for international collaboration among architects, consultants, and other specialists. Through these and a variety of other initiatives, he continues to promote public understanding of architecture.
Zoom registration link: https://us02web.zoom.us/meeting/register/tZArfu-pqDwvEt2Q0PtlPm7Bx4nJqUlKLyBA
Nature Into Art with Tom Christopher
Thursday, March 25th at 7 p.m. on Zoom. Registration required.
Garden designer and author Tom Christopher's most recent book, Nature Into Art provides an intimate view of New York's premier public garden, Wave Hill, together with the lessons that can be learned from its peerless gardeners and their style of gardening. Wave Hill also embraces a design spirit that is daring and innovative. Every year brings changes to Wave Hill: new combinations of colors, textures, and forms, along with creative themes and constant experimentation.
Nature Into Art brings this splendid, sensory experience home by honoring the unsurpassed beauty of Wave Hill. It explores the different areas of the garden—the flower garden, the shade border, the wild garden, the conservatory, and more—and gives gardeners helpful information on the plants, techniques, and design choices that define this iconic space.
Thomas Christopher is a graduate of the New York Botanical Garden School of Professional Horticulture. He has worked as a columnist for Horticulture, House & Garden, and Country Living Gardener, and a contributor to The New York Times and the Journal of the Royal Horticulture Society. He is the author or co-author of more than a dozen books and hosts the weekly Growing Greener podcast sponsored by the Berkshire Botanical Garden.
Zoom registration link: https://us02web.zoom.us/meeting/register/tZAqc-6srjIoHtXn2E9-RrUz_lhWR4ff__Eh
Uncommon Spring Bird Migrants in Connecticut with Connecticut Audubon Society's Joe Attwater
Wednesday, March 31st at 7 p.m. on Zoom. Registration is required.
Every spring, Connecticut sees the return of its warm weather bird species from their wintering grounds further south. Some birds stay to breed in the state, while others pass through on their way north. Some species end up here from far out of their range, sending birders flying for their binoculars! In this talk, CT Audubon Society teacher- naturalist Joe Attwater will focus on these rare visitors to our state and how they can end up here. This event is sponsored by the Peach Pit Foundation through the Community Foundation of Middlesex County.
Joe Attwater is a teacher-naturalist with the Connecticut Audubon Society's RTP Estuary Center. Joe leads many of the center's bird related programs including hikes, guided owl prowls, webinars and virtual mini-courses. Joe has a B.S. in Wildlife Biology from the University of Rhode Island, where he focused on ornithology. He enjoys hiking and birding in his spare time.
Zoom registration link: https://us02web.zoom.us/meeting/register/tZ0ocOqupzMuHdY8CpA-knr44rhs6_CMLYYD
On-Going Programs
Alzheimer Caregiver's Support Group
The Alzheimer Caregiver's Support Group has been placed on temporary hold until further notice. We look forward to resuming at a later date.
Caring for a person with Alzheimer's disease can be challenging. To help people who care for those with Alzheimer's or another form of dementia, the Alzheimer's Association Connecticut Chapter facilitates about 90 support groups around the state. The Essex Library is honored to collaborate with AACC in hosting a monthly caregivers support group which offers caregivers a place to share, learn and feel welcomed. People talk about their experiences and offer suggestions to deal with topics including medical, legal, behavioral and financial problems. The trained group facilitator is there to listen, help guide the conversation and to provide information about resources in the community. This support group is FREE and open to the public.
24/7 Helpline: (800) 272-3900
ehelpline@alz.org
Bereavement Support Group
Due to pressing counseling and emergency response needs at Middlesex Hospital, we regret that the library's bereavement counseling sessions have been placed on temporary hold until further notice.  We look forward to resuming this service at a later date.
Additional bereavement resources may be found at the Center For Hospice Care Southeast Connecticut: https://www.hospicesect.org/bereavement-services
Grieving is tough –  but you don't have to go it alone. The Essex Library is now hosting a Bereavement Support Group, with leadership provided by Chaplain Dennis McCann, head of pastoral services at Middlesex Hospital. The group is free and open to all. If you're struggling with loss – of a spouse, a parent or other family member, or a close friend –  please consider coming to a meeting; sometimes just having a place to share our feelings makes them easier to bear.  No advance registration is necessary, and drop-ins are welcome.
SCORE At The Library
The Southeastern Connecticut chapter of SCORE provides free and confidential advice on starting and growing small businesses. Appointments must be scheduled in advance, either by calling 860-388-9508 or downloading a request form. SCORE is also offering information and assistance with the Paycheck Protection Program and SBA Economic Injury Disaster Loan program.
Instructions for Using Zoom
You do not need to have a Zoom account to join the Library's Zoom meetings. To connect with video, you will need to be connected to the Internet, either from a computer, iPad or cell phone. A link for each meeting will be provided in the monthly newsletters and on the Library's website. All library programs and meetings offered on Zoom are moderated by library staff and are recorded; the library does not offer Zoom recordings to the public.The Library records all programs and reports all Zoombombing, attempted Zoombombing, and/or misuse of our public programming platform to federal and local law enforcement.
For more detailed instructions see: Instructions on Using Zoom, a free video-conferencing software.
To Connect with a Computer:
To Join a Zoom Meeting from your computer, click the links provided for each meeting, OR
Go to https://zoom.us
Click on 'Join A Meeting' located in the upper right area of the screen
Type the meeting number in the window then click 'JOIN'
A 'Launch Application' window will appear
Click 'Open link'
If you have trouble getting the Zoom meeting to open, please be sure to use the Chrome, Safari, or Internet Explorer browser. To download Google Chrome to your device, see instructions here: https://www.google.com/chrome/
To Connect with an iPad or iPhone:
Download the Zoom app from the App Store, located here: https://apps.apple.com/us/app/zoom-cloud-meetings/id546505307
Click the link provided for the meeting
To Connect with an Android device:
Download the Zoom app for Android, located here: https://play.google.com/store/apps/details?id=us.zoom.videomeetings&hl=en_US
Click the link provided for the meeting
To Connect with a land line phone:
If you're joining the meeting by phone, call this number: 1 (646) 558-8656. Once you're connected, then dial the meeting ID number to join the meeting.