Votes for Women | Uprooted with Page Dickey | Centerbrook Architects Lecture Series: Hand Hewn | Wildlife and Connecticut's Changing Climate | Spirit of Place with Bill Noble | Social Security 101 Workshop
 Alzheimer Caregiver's Support Group | Bereavement Support Group | SCORE at the Library
Our programs are free and open to the public. 
Votes For Women
Monday, October 5th at 7 p.m. via Zoom
Advanced registration is required.
In 2020 we mark the 100th anniversary of women's suffrage in the United States. The fight for women's right to vote was long and took many twists and turns. Join along as the Connecticut Women's Hall of Fame presents an illustrated talk about the Connecticut women who fought on a local, state, and national level and on whose shoulders we stand. Be inspired by their stories to use your vote to give a voice to women.
To register, click: https://us02web.zoom.us/meeting/register/tZ0qfuyurjwrGNaDeoc_cZTUnivmMxURgnkJ
Uprooted: A gardener reflects on beginning again with Page Dickey
Wednesday, October 14th at 7 p.m. using Zoom
Advanced registration is required.
Page Dickey has been gardening passionately since her early twenties and writing about gardening, as well as designing gardens for others, for three decades. She has written eight books and edited another, most of which concentrate on aspects of garden design, especially creating gardens that reflect their settings. Her new book, Uprooted: A Gardener Reflects on Beginning Again, describes leaving Duck Hill–a beloved garden of thirty-four years, finding a home in Falls Village, CT and falling in love with its land–17 acres of fields and woods and a view of the Berkshire foothills. Page lectures around the country about plants and garden design and has written for House and Garden, House Beautiful, Architectural Digest, Horticulture, Elle Décor, Garden Design and The New York Times. She serves on the boards of the Garden Conservancy; Stonecrop Garden in Cold Spring, NY; Hollister House Garden in Washington, CT and The Little Guild in Cornwall, CT and is a member of the Friends of Horticulture at Wave Hill. Page was recently elected an Honorary Member of The Garden Club of America.
To register, click:
https://us02web.zoom.us/meeting/register/tZYkdOCppz8sE9ZXwY2aJG-T7iWOFhjFc2-E
Centerbrook Architects Lecture Series Presents: Hand Hewn, Jack Sobon Reflects on the Craft of Timber Framing
Friday, October 16th at 7 p.m. on Zoom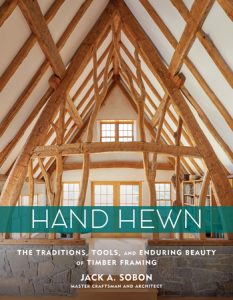 Jack Sobon's book, Hand Hewn, is a gorgeous celebration of the traditions and artistry of timber-frame building, a 7,000-year-old craft that holds an enduring attraction for its simple elegance and resilience. Internationally renowned timber-frame architect and craftsman Jack A. Sobon offers a fascinating look at how the natural, organic forms of trees become the framework for a home, with profiles of the classic tools he uses to hand hew and shape each timber, and explanations of the engineering of the wooden joinery that connects the timbers without a single nail. Sobon will illustrate the history of this enduring craft, the beauty and proportion of preindustrial craftsmanship, the appeal of vernacular architecture, and the relevance of timber framing today.
Jack Sobon is an architect and crasftsman specializing in timber framed buildings. Since 1980 he has devoted his life to understanding the craft of timber framing. Using only traditional hand tools and working right from the forest, he has framed and erected over 50 structures. As an architect, he consults on historic structures and designs new timber framed structures. He was a founding director of the Timber Framer's Guild and founder of the Traditional Timber Frame Research and Advisory Group, an offshoot of the Guild. He has four books to his credit and has taught over sixty all hand tool workshops.
Zoom registration link: https://us02web.zoom.us/meeting/register/tZMpc–tpjwvE90pVcjefyvWhDJtNJb1cN7a
Wildlife and Connecticut's Changing Landscape
Tuesday, October 20th at 3 p.m. on Zoom
The "Wildlife and Connecticut's Changing Landscape" presentation provides a brief natural history of Connecticut, addresses the current state of wildlife in the state, including a discussion of major species, factors affecting their habitats, challenges we face in managing them, and provides suggestions for what people can do to make a difference.
Paul Colburn is a 2015 graduate of the Master Wildlife Conservationist Program (MWCP) and a certified Master Wildlife Conservationist (MWC). The MWCP is a Connecticut Department of Energy & Environmental Protection (DEEP) adult education program that trains volunteers in the fields of wildlife management, natural history and interpretation. Mr. Colburn has provided over two hundred wildlife presentations across the state and participated in several wildlife research projects. Mr. Colburn is an avid outdoorsman, a graduate of Wesleyan University and served honorably in the United States Army.
Registration is required. Link for Zoom registration: https://us02web.zoom.us/meeting/register/tZ0udemgqj0sHdfY1PZYnL_LjgZNz0NuJMhe
Spirit of Place with Bill Noble
Thursday, October 22nd at 2 p.m. via Zoom
How does an individual garden relate to the larger landscape? How does it connect to the natural and cultural environment? Does it evoke a sense of place? In addressing these topics in an illustrated presentation based on his new book, Spirit of Place, Bill Noble—a lifelong gardener, the former director of preservation for the Garden Conservancy, helps gardeners answer these questions by sharing how they influenced the creation of his garden in Vermont.
Noble reveals that a garden is never created in a vacuum but is rather the outcome of an individual's personal vision combined with historical and cultural forces of place. He speaks to the guiding principles that have shaped the making of the garden, and will lead us through a tour of its colorful perennial borders as well as quiet nooks of greenery and refuge. His talk will inspire you to create a garden rich in context, personal vision, and spirit. It will be followed with a Q&A session.
Zoom registration link: https://us02web.zoom.us/meeting/register/tZ0sd-GhrD8iEty2Yoi-4Nv5Iv-O_mzN8fyk
Social Security 101 Workshop with Kentia Torres
Thursday, October 29nd at 1 PM via Zoom
Registration Required. Register here.
Want to find out how to get the most from your social security benefits? Do you qualify for disability, survivors and spouse benefits? How does early retirement affect your benefits? Answers to these questions and more will be provided by Kentia Torres, Public Affairs Specialist with the Socvial Security Administration.
Come learn about taking your benefits at age 62 vs. your full retirement age as well as when and how to enroll in Medicare, working in retirement and more. You will also learn about all the services that can be completed at Social Security's website, www.socialsecurity.gov.
Kentia will show attendees how to use My Social Security online account and other online services. Before attending the workshop, please go to www.socialsecurity.gov/myaccount and print out your Social Security Statement.
On-Going Programs
Alzheimer Caregiver's Support Group
The Alzheimer Caregiver's Support Group has been placed on temporary hold until further notice. We look forward to resuming at a later date.
Caring for a person with Alzheimer's disease can be challenging. To help people who care for those with Alzheimer's or another form of dementia, the Alzheimer's Association Connecticut Chapter facilitates about 90 support groups around the state. The Essex Library is honored to collaborate with AACC in hosting a monthly caregivers support group which offers caregivers a place to share, learn and feel welcomed. People talk about their experiences and offer suggestions to deal with topics including medical, legal, behavioral and financial problems. The trained group facilitator is there to listen, help guide the conversation and to provide information about resources in the community. This support group is FREE and open to the public.
24/7 Helpline: (800) 272-3900
ehelpline@alz.org
Bereavement Support Group
Due to pressing counseling and emergency response needs at Middlesex Hospital, we regret that the library's bereavement counseling sessions have been placed on temporary hold until further notice.  We look forward to resuming this service at a later date.
Additional bereavement resources may be found at the Center For Hospice Care Southeast Connecticut: https://www.hospicesect.org/bereavement-services
Grieving is tough –  but you don't have to go it alone. The Essex Library is now hosting a Bereavement Support Group, with leadership provided by Chaplain Dennis McCann, head of pastoral services at Middlesex Hospital. The group is free and open to all. If you're struggling with loss – of a spouse, a parent or other family member, or a close friend –  please consider coming to a meeting; sometimes just having a place to share our feelings makes them easier to bear.  No advance registration is necessary, and drop-ins are welcome.
SCORE At The Library
The Southeastern Connecticut chapter of SCORE provides free and confidential advice on starting and growing small businesses. Appointments must be scheduled in advance, either by calling 860-388-9508 or downloading a request form. SCORE is also offering information and assistance with the Paycheck Protection Program and SBA Economic Injury Disaster Loan program.
Instructions for Using Zoom
You do not need to have a Zoom account to join the Library's Zoom meetings. To connect with video, you will need to be connected to the Internet, either from a computer, iPad or cell phone. A link for each meeting will be provided in the monthly newsletters and on the Library's website. All library programs and meetings offered on Zoom are moderated by library staff and are recorded; the library does not offer Zoom recordings to the public.The Library records all programs and reports all Zoombombing, attempted Zoombombing, and/or misuse of our public programming platform to federal and local law enforcement.
For more detailed instructions see: Instructions on Using Zoom, a free video-conferencing software.
To Connect with a Computer:
To Join a Zoom Meeting from your computer, click the links provided for each meeting, OR
Go to https://zoom.us
Click on 'Join A Meeting' located in the upper right area of the screen
Type the meeting number in the window then click 'JOIN'
A 'Launch Application' window will appear
Click 'Open link'
If you have trouble getting the Zoom meeting to open, please be sure to use the Chrome, Safari, or Internet Explorer browser. To download Google Chrome to your device, see instructions here: https://www.google.com/chrome/
To Connect with an iPad or iPhone:
Download the Zoom app from the App Store, located here: https://apps.apple.com/us/app/zoom-cloud-meetings/id546505307
Click the link provided for the meeting
To Connect with an Android device:
Download the Zoom app for Android, located here: https://play.google.com/store/apps/details?id=us.zoom.videomeetings&hl=en_US
Click the link provided for the meeting
To Connect with a land line phone:
If you're joining the meeting by phone, call this number: 1 (646) 558-8656. Once you're connected, then dial the meeting ID number to join the meeting.