Check Out Our Upcoming Events! Centerbrook Architects Lecture Series: Connecticut Architecture – 2/15 | Filming Screening: Five Seasons – 2/20 |  Bald Eagles in Connecticut – 2/23  | Author Talk: Connecticut River From The Air – 2/28
Ongoing Programs: Bereavement Support Group | Diamonds and Purls | SCORE
Our programs are free and open to the public. Please let us know if you'll be attending so we can let you know in case of any unforeseen changes in the schedule. To register, please call us at (860) 767-1560.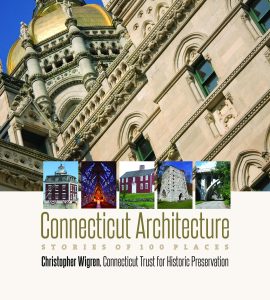 Centerbrook Architects Lecture Series: Connecticut Architecture
Friday, February 15th at 7 p.m in The Cube at Centerbrook Architects
The Essex Library is honored to announce the eleventh year of its lecture series in collaboration with and sponsored by Centerbrook Architects. Kicking it off will be author and architectural historian Christopher Wigren. Connecticut boasts some of the oldest and most distinctive architecture in New England, from Colnial churches and Modernist houses to refurbished nineteenth-century factories. Architectural Historian Christopher Wigren's recent book, Connecticut Architecture: stories of 100 places is a guide to this rich and diverse architectural heritage, introducing readers to key architectural features and trends and relating buildings to the local and regional histories they represent. Copies of the book will be available for purchase and signing after the talk.
Christopher Wigren is an architectural historian and Deputy Director of the Connecticut Trust for Historic Preservation. His articles and essays have appeared in the Hartford Courant, the New Haven Register, and Connecticut Explored magazine.
Film Screening – Five Seasons: The Gardens of Piet Oudolf
Wednesday, February 20th at 4 p.m.
For fans of Chicago's Lurie Garden, New York's High Line or any of Dutch garden designer Piet Oudolf's other revolutionary garden designs, the Essex Library will screen the new documentary, "Five Seasons" twice in February. Award-winning filmmaker Thomas Piper captures Oudolf's "New Perennial" movement designs through the year and immerses viewers in his creative process including the beautiful abstract sketches, theories on beauty and ecological implications of his ideas in this 75-minute film. Viewers will enjoy discussions taking place through all fours seasons in Piet's own gardens at Hummelo, and on visits to his signature public works in New York, Chicago, and the Netherlands, as well as to the far-flung locations that inspire his genius, including desert wildflowers in West Texas and post-industrial forests in Pennsylvania.
As a narrative thread, the film also follows Oudolf as he designs and installs a major new garden at Hauser & Wirth Somerset, a gallery and arts center in Southwest England, a garden he considers his best work yet. Piet Oudolf has radically redefined what gardens can be. As Rick Darke, the famous botanist, says to Piet in the film, "your work teaches us to see what we have been unable to see." Through poetic cinematography and unique access, Five Seasons reveals all that Piet sees, and celebrates all that we as viewers have been unable to see.
Bald Eagles In Connecticut
Saturday, February 23rd at 2 p.m.
Did you know bald eagles usually mate for life? Did you also know that the female bald eagle is larger than the male, or that bald eagles hold the record for the largest nest? Please join us at the Essex Library for an illustrated lecture on bald eagles by Richard Taylor, Master Wildlife Conservationist from the CT DEEP Wildlife Team. The presentation will include the history, range, habitat, diet, nesting, breeding and recovery of bald eagles in Connecticut.
Richard Taylor is a retired Human Resources executive who formerly worked for General Dynamics and Computer Sciences Corporation.  Richard has had an interest in wildlife and fisheries his entire life and since his retirement, he completed Connecticut's Master Wildlife Conservationist program and is now active volunteering and presenting programs on wildlife to libraries and non-profit organizations. He has a passion for education and continuous learning and has served as a Chief Learning Officer, a member of the Federal Committee on Apprenticeship and Rhode Island Vocational Council and has degrees and certifications from SCSU, RPI and Cornell.
Author Talk: Connecticut River From The Air with Jerry Roberts & Tom Walsh
Thursday, February 28th at 7 p.m.
Connecticut River From the Air chronicles the 410-mile course of New England's greatest river as it flows from the Canadian border to Long Island Sound.  Hundreds of stunning aerial photographs with dynamic captions and narrative present the history and natural splendor of this extraordinary waterway. Beauty and wonder can be found in historic canals and bridges as well as twists and bends in the River, ship wrecks, rock formations, and even sand patterns on the River bottom. From naturally formed ox-bows to cornfield mazes, hidden valleys, quaint villages, industrial cities and sweeping vistas, these wonders of the River are the true treasures of this amazing waterway and its surrounding landscapes. Copies of the book will be available for purchase and signing.
Author, historian, Jerry Roberts has spent his career digging up the past, discovering history's untold stories and bringing them to the public through books, documentaries and exhibits. He has served as executive director for several major museums in New York and New England. He likes to say that history is the best reality show ever produced.
Pilot, photographer, Tom Walsh is a senior captain for a major US airline. When not flying across oceans at six miles high, he pilots his own small aircraft, low and slow, chronicling coastlines, rivers, small towns and big cities for a variety of clients through his own company, Shoreline Aerial Photography.
On-Going Programs
Bereavement Support Group
First and third Tuesdays, 2-3 p.m.
Second and fourth Tuesdays, 5-6 p.m.
Grieving is tough –  but you don't have to go it alone. The Essex Library is now hosting a Bereavement Support Group, with leadership provided by Chaplain Dennis McCann, head of pastoral services at Middlesex Hospital. The group is free and open to all. If you're struggling with loss – of a spouse, a parent or other family member, or a close friend –  please consider coming to a meeting; sometimes just having a place to share our feelings makes them easier to bear.  No advance registration is necessary, and drop-ins are welcome.
Diamonds and Purls
Tuesdays, 4-5 p.m. and
Second Saturday of every month, 1-2 p.m.
A knitting group for all fiber artists, whether you knit, crochet, embroider, or any other kind of portable fiber art. If you'd like to learn to knit, Librarian Anna Cierocki will teach you. Bring a pair of size eight needles, and a skein of white acrylic yarn.
Due to a number of generous donations recently, we are NOT accepting further yarn or needle donations. Thank you for your consideration.
SCORE At The Library
Second and fourth Thursdays, 10 a.m.-1 p.m.
The Southeastern Connecticut chapter of SCORE® provides free and confidential advice on starting and growing small businesses. Counseling will take place at the Essex Library on the second and fourth Thursday of each month between 10:00 a.m. and 1:00 p.m.  Appointments must be scheduled in advance, either by calling 860-388-9508, or by requesting a mentor online.
Don Flynn, an Essex resident, along with Steve Workman and other chapter members will counsel business owners and aspiring entrepreneurs in Essex.  According to Flynn, "At the initial meeting, the business owner describes his or her current situation and challenges the business may be facing to a team of counselors.  Based on the specific areas of need, a SCORE counselor with experience in those areas is assigned to help guide the business owner in the completion of a business plan or other action steps."