Check Out Our Upcoming Events! Connecticut River Ferries – 10/22 | Centerbrook Architects: Chuck Benson 10/25 |  Mystic Seaport Museum Presents: J.M.W. Turner: Watercolors from the Tate – 10/29 | Migration through Maps – 11/2 | Film: The Biggest Little Farm – 11/7 | Author Talk: Charles McNair, M.D. – 11/8
Ongoing Programs: Alzheimer's Caregivers Support Group | Bereavement Support Group | Diamonds and Purls | SCORE
Our programs are free and open to the public. Please let us know if you'll be attending so we can let you know in case of any unforeseen changes in the schedule. To register, please call us at (860) 767-1560.
October Events
Connecticut River Ferries with Wick Griswold
Tuesday, October 22nd at 7 p.m.
America's oldest continuously operating ferry service began running between Rocky Hill and Glastonbury in 1655. More than one hundred ferries have operated on the Connecticut River since the seventeenth century. Explore the enduring cultural relevance of the ferryboats of the Connecticut River. Hear about the stories of the captains, crews and passengers define the history and personality of the region. Learn how Captain Ham Sandwich got his name. Discover the bond between Katharine Hepburn and a real ferry queen, Cathey LaBonte. Authors Wick Griswold and Stephen Jones detail the history of these charming anachronisms and why they are still afloat today.
Wick Griswold is an associate professor of sociology at the University of Hartford. His signature course is the Sociology of the Connecticut River. His books include A History of the Connecticut River, Griswold Point: History from the Mouth of the Connecticut River and Pirates and Privateers of Connecticut. He is an associate producer of the documentary Ferryboats of the Connecticut River. He also hosts Connecticut River Drift on i-CRV Radio in Ivoryton, Connecticut.
Centerbrook Architects Lecture Series: Dr. Chuck Benson Presents The Timelessness of Japanese Architecture – Shinto and Buddhist Masterpieces of Design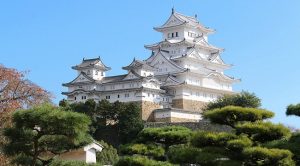 Friday, October 25th at 7 p.m. in The Cube at Centerbrook Architects
Architectural Historian Chuck Benson will present an illustrated talk that will focus on travelling to ancient Japan architecturally – and unlocking the secrets of its two great architectural traditions – Shintoism and Buddhism. From Ise Shrine for Shintoism to the Buddhist Temples of Horyuji, Todaiji, and Yakushiji, come explore with us this iconic and surprisingly modern tradition of design and architecture that's had a profound effect not only upon its own people – but on modern architecture in the west as well.
Mystic Seaport Museum Presents: J.M.W. Turner: Watercolors from the Tate
Tuesday, October 29th at 7 p.m.
The Mystic Seaport Museum is the only U.S. venue for this milestone exhibition of almost 100 of J.M.W. Turner's watercolor masterpieces from the collection of the Tate Museum in London. Watercolors from Tate brings together luminous landscapes and atmospheric seascapes, architectural and topographical sketches, travel drawings, and even a number of intimate interior views. The exhibition spans the entirety of Turner's long career and, by focusing on the artist's watercolors, provides insight into the private visionary behind the public figure. Join us for a preview and discussion of the exhibit with a representative of the Mystic Seaport Museum.
November Events
Migration Through Maps: A Cartographic Overview of American Immigration
Saturday, November 2nd at 2 p.m.
Through the use of maps, supplemented by statistics and a brief discussion of migration push and pull factors as well as public policy (past and present), this presentation will provide an overview of American immigration patterns and trends from the arrival of the first inhabitants to the present day. Dr. Francis Coan is a History Professor at Tunxis Community College, and part of the Civic Engagement Institute on campus.
Film: The Biggest Little Farm
Thursday, November 7 at 5 p.m.
The documentary tells the story of John and Molly Chester, who were evicted from their small apartment in Los Angeles because their dog barked too much. So they moved onto 200 acres north of the city determined to create a farm. They face long odds and unforeseen complications, but they endure for years, gaining a greater understanding of the land, its needs, and their connection to it. Rated PG, approx. 90 minutes.
Author Talk: Charles McNair, M.D.
Friday, November 8th at 2 p.m.
The Essex Library community is honored to observe Veterans' Day on Friday, November 8 at 2:00 p.m. with a talk by Charles McNair, M.D. who was a combat field medic and operating technician between June, 1969, to June, 1970, in the 45th Surgical Hospital, Tay Ninh Province, South Vietnam. McNair has composed a fictional account of the Vietnam War, set seven years into the war and in an area of fierce and sustained combat.  The novel describes the 83rd surgical hospital and the men and women who worked to preserve the lives of the American soldiers sent to fight in what was, by then, an inconvenient war.  Beginning with a college protest rally and ending at the Wall in Washington, D.C., Soldiers of a Foreign War tells the stories of the people – American and Vietnamese, soldiers and civilians, whose lives were forever changed by the war.
Dr. Charles McNair enlisted at age nineteen, serving as combat field medic and operating technician in Tay Ninh Province, South Vietnam. His team's mission was to receive the wounded directly from the battlefield and perform stabilizing surgery. The area was the site of nearly continuous combat during that time and was the jumping off point for the Cambodian invasion in May, 1970. After discharge in 1971, Dr. McNair returned to college, then medical school in California. He practiced medicine in Woodbury from 1981, until his retirement in December, 2016. Copies of the book will be available for purchase and signing.
On-Going Programs
Alzheimer's Caregivers Support Group
First Tuesday every month beginning July 2nd, 5:30-7 p.m. 
Seventy eight thousand people in Connecticut are living with Alzheimer's disease and there are 178 thousand caregivers in this state. Caring for a person with Alzheimer's disease can be challenging. Changes in the person's behavior as the disease progresses can lead to frustration and anxiety. To help people who care for those with Alzheimer's or another form of dementia, the Alzheimer's Association Connecticut Chapter facilitates about 90 support groups around the state. The Essex Library is honored to collaborate with AACC in hosting a monthly caregivers support group.
The support group offers caregivers a place to share, learn and feel welcomed. People talk about their experiences and offer suggestions to deal with topics including medical, legal, behavioral and financial problems. The trained group facilitator is there to listen, help guide the conversation and to provide information about resources in the community. This support group is FREE and open to the public. There is no registration necessary. 
Bereavement Support Group
First and third Tuesdays, 2-3 p.m.
Second and fourth Tuesdays, 5-6 p.m.
Grieving is tough –  but you don't have to go it alone. The Essex Library is now hosting a Bereavement Support Group, with leadership provided by Chaplain Dennis McCann, head of pastoral services at Middlesex Hospital. The group is free and open to all. If you're struggling with loss – of a spouse, a parent or other family member, or a close friend –  please consider coming to a meeting; sometimes just having a place to share our feelings makes them easier to bear.  No advance registration is necessary, and drop-ins are welcome.
Diamonds and Purls
Tuesdays, 4-5 p.m. and
Second Saturday of every month, 1-2 p.m.
A knitting group for all fiber artists, whether you knit, crochet, embroider, or any other kind of portable fiber art. If you'd like to learn to knit, Librarian Anna Cierocki will teach you. Bring a pair of size eight needles, and a skein of white acrylic yarn.
Due to a number of generous donations recently, we are NOT accepting further yarn or needle donations. Thank you for your consideration.
SCORE At The Library
Second and fourth Thursdays, 10 a.m.-1 p.m.
The Southeastern Connecticut chapter of SCORE® provides free and confidential advice on starting and growing small businesses. Counseling will take place at the Essex Library on the second and fourth Thursday of each month between 10:00 a.m. and 1:00 p.m.  Appointments must be scheduled in advance, either by calling 860-388-9508, or by requesting a mentor online.
Don Flynn, an Essex resident, along with Steve Workman and other chapter members will counsel business owners and aspiring entrepreneurs in Essex.  According to Flynn, "At the initial meeting, the business owner describes his or her current situation and challenges the business may be facing to a team of counselors.  Based on the specific areas of need, a SCORE counselor with experience in those areas is assigned to help guide the business owner in the completion of a business plan or other action steps."