Check Out Our Upcoming Events! Author Talk: James Benn – 9/3 | Centerbrook Architects Series: The Harvard Five – 9/6 | Author Talk: Roy Manstan – 9/9
Ongoing Programs: Alzheimer's Caregivers Support Group | Bereavement Support Group | Diamonds and Purls | SCORE
Our programs are free and open to the public. Please let us know if you'll be attending so we can let you know in case of any unforeseen changes in the schedule. To register, please call us at (860) 767-1560.
September Programs
Author Talk: James Benn with "When Hell Struck Twelve"
Tuesday, September 3rd at 7 p.m. at the Essex Library
The Essex Library is honored to celebrate the release of the fourteenth Billy Boyle World War II mystery novel, When Hell Struck Twelve, with author James R. Benn. The New York Times Book Review declared the Billy Boyle wartime series, "spirited wartime storytelling." Booklist gives it a starred review: "this consistently strong series has jumped to another level, with this volume clearly the hands-down best so far."
In the 14th Billy Boyle mystery, US Army detective Billy Boyle and Lieutenant Kazimierz travel into the heart of Nazi-occupied Paris on a dangerous mission: ensure a traitor to the French Resistance unwittingly carries out a high-stakes deception campaign. Join us as we learn more fascinating WW II details from Benn's research and, hopefully, teasers to what Billy and Kaz will get up in the 15th Boyle mystery. Copies of Benn's books will be available for purchase and signing.
Centerbrook Architects Lecture Series Presents: The Harvard Five in New Canaan with Architect William Earls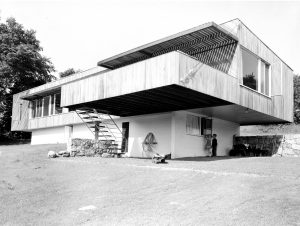 Friday, September 6th at 7 p.m. in The Cube at Centerbrook Architects
Since the fifties, "the Harvard Five" has been the catchphrase for the five architects- Marcel Breuer, Landis Gores, John Johansen, Philip Johnson and Eliot Noyes who all built houses for themselves and for clients in New Canaan, Connecticut. Other architects, well known (Frank Lloyd Wright, for example) and not so well known, also contributed significant modern houses that elicited strong reactions from nearly everyone who saw them and are still astonishing today. Architect William Earls will discuss the significance of the architecture that was built in New Canaan between 1949 and 1960 and place the work in its historical context between early modernism of the 1930's and postmodernism of the 1970's. It appears that New Canaan was not just another suburban enclave of modern houses. This talk will illuminate why and what these architects did to usher in a new era of architecture.
William D. Earls is the author of "The Harvard Five in New Canaan: Mid-Century Modern Houses by Marcel Breuer, Landis Gores, John Johansen, Philip Johnson Eliot Noyes" published by W. W. Norton and Co. 2006. He has lectured and written numerous articles on modern architecture.
Author Talk with Roy Manstan: The Listeners: U-boat Hunters During the Great War
Monday, September 9th at 7 p.m.
Naval warfare would change forever when submarines became a reality during World War I, also known as the Great War. On September 22, 1914, the month after war was declared, torpedoes from a single German U-boat sent three British armored cruisers to the bottom of the North Sea. The Allies were ill-prepared for what became Germany's naval strategy of unrestricted submarine warfare. Author Roy Manstan will provide a brief history of submarines leading to the 20th century and Connecticut's role in developing anti-submarine tactics and technologies, all based on a submarine's single exploitable vulnerability – they were very noisy. What became known as modern SONAR had its origins at the Naval Experimental Station in New London, CT (1917-1918) where "The Listeners" were trained to detect, track, and attack these evasive submarine predators.
Roy R. Manstan began his career at the US Navy Underwater Sound Laboratory where he was involved with Cold War anti-submarine technologies. He became a field engineer and, after training as a Navy diver at the submarine base in Groton, traveled the world for over three decades tackling SONAR-related research and development, and conducting fast-response troubleshooting of deployed systems.
On-Going Programs
Alzheimer's Caregivers Support Group
First Tuesday every month beginning July 2nd, 5:30-7 p.m. 
Seventy eight thousand people in Connecticut are living with Alzheimer's disease and there are 178 thousand caregivers in this state. Caring for a person with Alzheimer's disease can be challenging. Changes in the person's behavior as the disease progresses can lead to frustration and anxiety. To help people who care for those with Alzheimer's or another form of dementia, the Alzheimer's Association Connecticut Chapter facilitates about 90 support groups around the state. The Essex Library is honored to collaborate with AACC in hosting a monthly caregivers support group.
The support group offers caregivers a place to share, learn and feel welcomed. People talk about their experiences and offer suggestions to deal with topics including medical, legal, behavioral and financial problems. The trained group facilitator is there to listen, help guide the conversation and to provide information about resources in the community. This support group is FREE and open to the public. There is no registration necessary. 
Bereavement Support Group
First and third Tuesdays, 2-3 p.m.
Second and fourth Tuesdays, 5-6 p.m.
Grieving is tough –  but you don't have to go it alone. The Essex Library is now hosting a Bereavement Support Group, with leadership provided by Chaplain Dennis McCann, head of pastoral services at Middlesex Hospital. The group is free and open to all. If you're struggling with loss – of a spouse, a parent or other family member, or a close friend –  please consider coming to a meeting; sometimes just having a place to share our feelings makes them easier to bear.  No advance registration is necessary, and drop-ins are welcome.
Diamonds and Purls
Tuesdays, 4-5 p.m. and
Second Saturday of every month, 1-2 p.m.
A knitting group for all fiber artists, whether you knit, crochet, embroider, or any other kind of portable fiber art. If you'd like to learn to knit, Librarian Anna Cierocki will teach you. Bring a pair of size eight needles, and a skein of white acrylic yarn.
Due to a number of generous donations recently, we are NOT accepting further yarn or needle donations. Thank you for your consideration.
SCORE At The Library
Second and fourth Thursdays, 10 a.m.-1 p.m.
The Southeastern Connecticut chapter of SCORE® provides free and confidential advice on starting and growing small businesses. Counseling will take place at the Essex Library on the second and fourth Thursday of each month between 10:00 a.m. and 1:00 p.m.  Appointments must be scheduled in advance, either by calling 860-388-9508, or by requesting a mentor online.
Don Flynn, an Essex resident, along with Steve Workman and other chapter members will counsel business owners and aspiring entrepreneurs in Essex.  According to Flynn, "At the initial meeting, the business owner describes his or her current situation and challenges the business may be facing to a team of counselors.  Based on the specific areas of need, a SCORE counselor with experience in those areas is assigned to help guide the business owner in the completion of a business plan or other action steps."