Click for more information about the following events! The Bobcat – 5/3 | Centerbrook Architects Presents "Green Landscapes for Water & Wildlife" – 5/5 | Submarines in WWI – 5/6 | Dvorak, The Happy Soul – 5/9 | Celebrating 300 Years of Connecticut's Remarkable Women – 5/15
Ongoing Programs: Bereavement Support Group | Diamonds and Purls | Friday Afternoon Bridge | SCORE
Avoid disappointment – register in advance! We appreciate advance registration; we can inform you if a program is full or contact you if the program is cancelled. To register, please call us at (860) 767-1560.
The discussion series of Jane Austen's Persuasion has been cancelled.
The Bobcat: Connecticut's Secretive Wild Cat with Paul Colburn
Wednesday, May 3rd at 7 p.m.
Connecticut Master Wildlife Conservationist Paul Colburn returns to offer a presentation on "The Bobcat: Connecticut's Secretive Wild Cat." Paul Colburn brings the elusive bobcat out of the shadows. This presentation focuses on the natural history of bobcats in Connecticut, providing an overview of bobcat habitat, diet, behavior, reproduction, and current research efforts.  The topic of mountain lions is also addressed, and bobcat artifacts will be on display.
"Green Landscapes for Water & Wildlife" Presented by Landscape Architects Shavaun Towers, FASLA and Natasha Andjelic, ASLA
Friday, May 5th at 7 p.m. in The Cube at Centerbrook Architects Office, 67 Main St., Centerbrook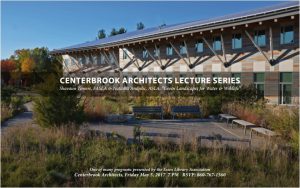 Landscape architects Shavaun Towers and Natasha Andjelic of the New Haven Landscape Architecture and Site Planning firm Towers|Golde will present 'Green Landscapes for Water and Wildlife'. The talk will cover sustainable elements of design such as the selection of native plants, storm water management techniques, low-mow/no mow lawn alternates, and meadow plantings, and discuss how these various elements can be woven into a cohesive landscape – one that is in harmony with Nature. Also included in the lecture will be discussion on what makes a landscape sustainable, changing trends in landscape planting and aesthetics, and how these techniques can be incorporated in your own landscape.
Recent award winning projects showcasing sustainable landscape design implementation, including the new Massachusetts Headquarters for the Division of Fish and Wildlife and the Life Science Laboratory at UMass, Amherst will be presented as well as recent and past projects completed for the New York Botanical Garden including the garden's new 'Green Zone,' and the Stone Mill restoration which included significant green infrastructure integrated into a historic cultural site restoration project fronting the Bronx River.
Shavaun Towers' work has focused on institutional, corporate and urban design projects. Institutional work includes academic, healthcare and cultural facilities as well as arboreta and historic properties. Ms. Towers was elected a Fellow of the American Society of Landscape Architects in national recognition of the superior quality of her design work. Her work has also received numerous state and national awards recognizing creativity and design excellence, historic sensitivity and environmental responsibility. Towers | Golde Associate Natasha Andjelic has been the lead project manager on key projects for the New York Botanical Garden, overseeing projects from planning through construction administration. Her site work for the Life Science Laboratory at UMass, Amherst is a prime example of her approach to site, incorporating complex hydrological systems and native planting to create both a regenerative and teaching landscape for the University.
Submarines in WWI: The Great War Through The Periscope with Eury Cantillo
Saturday, May 6th at 1:30 p.m.
Director of Education at the Navy's Submarine Force Museum, Eury Cantillo, will present an illustrated talk "Submarines in WWI: The Great War Through The Periscope". The culmination of the industrial age and of all the technological wonders that had been invented in the years leading up to and during the turn of the twentieth century were fully unleashed on the battlefield during the First World War. This program will present the contribution of one of these, the submarine, to the Great War. Cantillo will focus primarily on the activities of US submarines, while referencing some of the more significant feats performed by the German U-boats in order to create a larger context. Because of the lateness of America's involvement in the war, the presentation will focus more on the types of submarines in use, the technical advancements that can be demonstrated by these types, their operational uses during the war, as well as what life aboard submarines was like at that time.
Dvorak, The Happy Soul with Jeffry Engel
Tuesday, May 9th at 1:30 p.m.
Classical music historian favorite, Jeffrey Engel, returns to present a lecture on "Dvorak, The Happy Soul" on Tuesday, May 9th at 1:30 p.m. Dvorak was the happiest and least neurotic of the Romantics. He was barely literate and hardly a deep thinker (locomotives were his chief passion outside of music). The cheery Czech was greatly influenced by his native folk culture which inspired him to write a plethora of tuneful compositions. Jeffrey Engel will detail Dvorak's life and play excerpts of his music.
Celebrating 300 Years of Connecticut's Remarkable Women with Kathryn Gloor
Monday, May 15th at 7 p.m.
Kathryn Gloor, Executive Director of the Connecticut Women's Hall of Fame will present "Celebrating 300 Years of Connecticut's Remarkable Women." Ms. Gloor will present an interactive multi-media program about some of our state's most remarkable women. Be inspired as you learn about well-known figures like Ella Grasso, Katharine Hepburn and Marian Anderson and lesser known heroines like Maria Sanchez, Barbara McClintock and Hannah Watson. This presentation will introduce you to the Hall, its mission and programs, and give you a panoramic view of some of its 115 Inductees from across all fields of endeavor, from politics and sports to the arts and sciences.
The Connecticut Women's Hall of Fame (www.cwhf.org) is an educational outreach organization whose mission is to honor publicly the achievement of Connecticut women, preserve their stories, educate the public and inspire the continued achievements of women and girls.
Kathryn Gloor has spent more than 15 years raising awareness and support for the causes she loves, including education, women's rights, and cultural organizations. Most recently she served as Director of Development at Westport Country Playhouse. She has also held leadership positions at Planned Parenthood, Mercy Learning Center, and Oberlin College, among others, and has been a presenter at professional conferences and meetings on topics such as securing major gifts, organizing for success, and leveraging board relationships.
On-Going Programs
Bereavement Support Group
First and third Tuesdays, 2-3 p.m.
Second and fourth Tuesdays, 5-6 p.m.
Grieving is tough –  but you don't have to go it alone. The Essex Library is now hosting a Bereavement Support Group, with leadership provided by Chaplain Dennis McCann, head of pastoral services at Middlesex Hospital. The group is free and open to all. If you're struggling with loss – of a spouse, a parent or other family member, or a close friend –  please consider coming to a meeting; sometimes just having a place to share our feelings makes them easier to bear.  No advance registration is necessary, and drop-ins are welcome.
Diamonds and Purls
Tuesdays, 4-5 p.m. and
Second Saturday of every month, 1-2 p.m.
A knitting group for everyone, from new to expert knitters. If you're looking to learn, Librarian Anna Cierocki will teach you. Bring a pair of size eight needles, and we'll supply yarn to practice on. Experts, bring your projects.
Friday Afternoon Bridge At The Library
Fridays, 1-3 p.m. in the Program Room
The Library will be offering a weekly Friday afternoon bridge group for serious players, beginners to advanced, using Chicago scoring. The idea is to enjoy the game and learn from each other.  Participants will play for two quiet hours– from 1 – 3, with an opportunity to chat or go over strategy when the games are over. Game signup will start Monday mornings at 10 a.m. via telephone (860 767-1560) or stop in at the Library and will cut off with the 20th player. You may sign up for yourself, for you and a partner, or a group of up to four.
SCORE At The Library
Second and fourth Thursdays, 10 a.m.-1 p.m.
The Southeastern Connecticut chapter of SCORE® provides free and confidential advice on starting and growing small businesses. Counseling will take place at the Essex Library on the second and fourth Thursday of each month between 10:00 a.m. and 1:00 p.m.  Appointments must be scheduled in advance, either by calling 860-388-9508, or by requesting a mentor online.
Don Flynn, an Essex resident, along with Steve Workman and other chapter members will counsel business owners and aspiring entrepreneurs in Essex.  According to Flynn, "At the initial meeting, the business owner describes his or her current situation and challenges the business may be facing to a team of counselors.  Based on the specific areas of need, a SCORE counselor with experience in those areas is assigned to help guide the business owner in the completion of a business plan or other action steps."